Recently, Comcast employees in the Midwest Region volunteered to provide mock interviews for clients attending the Professional Leadership Training cohort at the International Institute of Minnesota. The International Institute of Minnesota's mission is helping New Americans (immigrants and refugees) achieve self-sufficiency and full membership in American life. From language learning and job raining to immigration assistance, citizenship classes, refugee resettlement, and case management, the Institute offers a pathway for a strong start to a new life in the United States.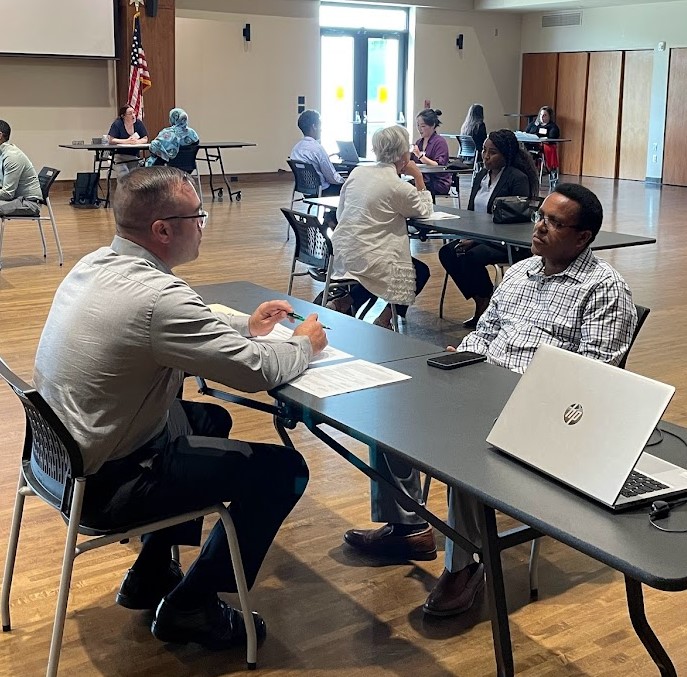 Although mock interview participants came to the United States with previous careers including, architects, finance executives, and emergency disaster program directors, their resumes qualify them for jobs in factory packaging, nurse's assistant and medication aide.  New Americans arriving in the United States are eager to support themselves and their family which is why the International Institute of Minnesota provides programs, such as professional leadership program. During the 12-week training program, participants experience and practice the development of leadership skills to advance their careers. These skills include networking, advanced customer service, financial coaching, goal setting, computer skills and several other skillsets.

"We are so grateful for all the Comcast volunteers. We wish you could have been there to see our students' reactions to their interviews," said Kate Carter, Career Advancement Specialist at International Institute of Minnesota. "They were all smiling and talking with one another, sharing their experiences. One student said, 'Kate, I don't know who thought this up, but this is an invaluable experience!' Everyone agreed- Comcast being there for them and taking the time to give personal feedback was very meaningful, and I don't think they're ever going to forget it."
Here at Comcast we imagine a world where everyone has what they need to shapre the future, which is why Comcast's commitment to community service has been deeply embedded in our DNA for decades. Since 2001, more than one million Comcast employees, family members, and friends across 23 countries have completed over seven million hours of service at 12,000 project sites through Comcast Cares– one of the largest corporate commitments to volunteerism and service in America.
Team UP is our always-on, 365-days-a-year effort that brings Comcast teams together and provides opportunities for everyone to get more involved in their local communities. Our reimagined approach to volunteerism allows for employees to serve their communities through traditional volunteering, give charitable donations to their favorite organizations, and grow their leadership skills through our non-profit board service trainings.