Comcast today announced the company completed its expansion to bring its smart, fast and reliable fiber-rich network to more than 2,300 homes and businesses in the City of Wayzata, including residential broadband speeds faster than 1 gigabit per second (Gbps) and business speeds up to 100 Gbps. The completion is part of Comcast's ongoing expansion in the Midwest, where the company will invest more than $20.2 million to bring broadband into homes across the region. Before the end of 2024, Comcast will also expand into Cologne, and, with funding support from the State of Minnesota's Border to Border Broadband program, Comcast will also extend its network into Rogers and Corcoran.
The City of Wayzata joins Comcast in celebrating the completion of this investment in our community. It will support workforce development, education and greater access to high-speed internet for our residents. It also improves our internet infrastructure in a way that is attractive to businesses interested in locating or expanding their operations here," said Mayor Johanna Mouton, City of Wayzata. "I am grateful for Comcast's commitment to expanding broadband access to Wayzata."
Wayzata residents will have access to all Xfinity Internet service offerings with speeds faster than 1 Gig and advanced WiFi technology from powerful gateways capable of delivering reliable and consistent connections for real-time activities like gaming, live streaming, and video conferencing with ultra-low lag. Residents will also have access to Flex, a solution to help users search less and watch more with a voice-controlled 4K streaming TV box, putting everyone's favorite streaming apps all in one place, the award-winning Xfinity X1 video platform, Xfinity Home, Comcast's professionally installed home security solution, and Xfinity Mobile, a top ranked service in customer satisfaction that can save customers hundreds of dollars a year on their mobile bills.
Residents can also take advantage of the company's Internet Essentials program that provides low-cost, high-speed broadband for income-constrained households. Since its inception in 2011, the program has connected more than 416,000 Minnesotans. Comcast also participates in the Affordable Connectivity Program (ACP), which provides qualifying households with a $30 monthly credit toward internet and mobile services.
"Reliable broadband services are essential for healthy communities. With expanded broadband access, our community members can tap into the resources they need to stay connected and engaged and help drive economic development," said Becky Pierson, Wayzata Chamber President.
For local businesses, Comcast Business offers a suite of connectivity, cybersecurity, managed solutions and Comcast Business Mobile products designed specifically for their employee's needs. Powered by the nation's largest Gig-speed broadband network, and backed by 24/7 customer support, Comcast Business is the nation's largest cable and Internet provider to small and mid-size businesses and one of the leading providers to larger organizations in the Enterprise market. Comcast Business has been consistently recognized by industry analysts and associations as a leader and innovator, and one of the fastest growing providers of Ethernet services.
It is so nice to finally have Comcast Business in Wayzata! While I have been a Comcast customer for my home internet for 10+ years, and it is wonderful to finally have internet access for our business and office," said Brittany Alexander, Office Manager, Business & Estate Advisers, Inc. "Comcast creates a 'small town' feel given our close-knit relationships with their team and we look forward to making this our internet provider for many years to come."
"Technology is a powerful driver of innovation, entrepreneurship, and economic growth, and we recognize our company plays an important role in connecting Wayzata residents and businesses to all the opportunities broadband offers," said Kalyn Hove, Regional Senior Vice President, Comcast. "Completing this expansion in Wayzata is another example of our investment in the Twin Cities and our commitment to bringing more opportunities to communities around the area. In fact, in the last three years, Comcast has made $473 million in technology and infrastructure investments in Minnesota, including upgrades to our network."
Powered by the Xfinity 10G Network
Comcast's network and Internet experience are powering homes and businesses today and into the future:
Ultimate Capacity: Xfinity customers connect nearly 1 billion devices across the company's network annually. The Xfinity 10G Network with the next-generation Xfinity gateways deliver the most advanced WiFi technology carrying three times more bandwidth to power streaming, gaming, videoconferencing, and more, simultaneously.
Fastest Internet: More than a third of Xfinity Internet customers subscribe to gigabit speed products, and symmetrical gig speeds are coming to the first homes this year.
Unprecedented Coverage: The latest Xfinity Gateway provides a more reliable connection throughout the home. Customers can get wall-to-wall WiFi coverage with a powerful Xfinity WiFi Boost Pod that extends coverage to hard-to-reach areas, with plans for an offering of increased support for in-home WiFi through a "boost guarantee" later this year.
Most Reliable Connection: Comcast is scaling the nation's largest and most reliable network – the Xfinity 10G Network – that passes 60 million homes and businesses and counting. The company plans to launch a new device that is "storm ready" with cellular and battery backup to help keep customers connected even when the power goes out.
Ultra-Low Latency: The Xfinity 10G Network and the latest Xfinity Gateway are a powerful combination that deliver ultra-low latency for those moments when response times matter most like video games, a fast-growing category with Xfinity households averaging more than one gaming console per home.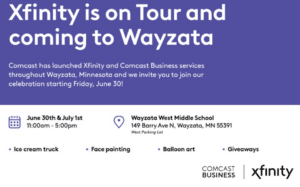 To celebrate the expansion of Xfinity services to the City of Wayzata, on June 30-July 1 from 11 a.m. to 5 p.m. CT, the Comcast team will be hosting an 'Xfinity On Tour' event at the Wayzata West Middle School West parking lot to provide residents the opportunity to learn more about Comcast services, answer questions, and take advantage of exclusive offers. Also included during the event is complimentary family fun with a balloon artist, face painter, ice cream and giveaways for all. You can also stop into the nearest Xfinity store to learn more.