Comcast Twin Cities is honored to be named the Twin Cities Business Best of Business 2023 Telecom & Internet winner, where readers choose the best companies to do business within Minnesota. This is the second year in a row Comcast has received this recognition. Twin Cities Business (TCB) asked executives and business decision-makers for vendor recommendations to create a guide to local business service vendors that consistently deliver. The winners are then chosen by TCB subscribers, through an annual subscriber survey.
As TCB shared about Xfinity, "Internet service is about providing a smarter, faster, more reliable, and secure network that connects people to what matters. Xfinity, an internet service of Comcast, is constantly improving its Xfinity 10G Network to fuel people's hyperconnected lives. Streaming live sports, 4K gaming, hybrid work and virtual reality have gone mainstream in just a few years, and gig speeds, capacity, reliability, and low latency are key factors making Comcast's connectivity experience superior. Customers can gain access to a host of services under one roof, including internet, mobile, home management, and entertainment. Committed to digital equity, Xfinity and Comcast provide affordable high-speed internet to low-income customers through its Internet Essentials program."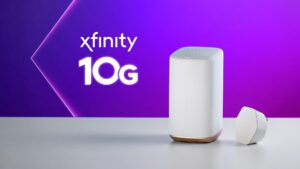 Our company delivers world-class broadband, mobile and entertainment that delight customers and technology that powers the future. The Xfinity 10G Network is our next generation broadband network that delivers better reliability, increased capacaity, low latency, and multi-gig speeds to power the rapid rise in the future. Our 10G network technology includes the nation's largest network of WiFi hotspots and our gig-WiFi gateway that can seamlessly connect hundreds of devices.
The employees in the Midwest Region are proud of the work we do to deliver a best in class product and experience for all of our customers. To learn more about the winners and finalists for all categories, click here.