On May 9, while completing an installation at Comcast Business customer GoCarWash in Blue Springs, MO, Midwest Region technician John Rall jumped into action. He and his supervisor, Patrick Fox, were in the parking lot of the carwash when they heard a loud commotion and followed customers heading toward a rock retaining wall. A carwash customer had accidentally hit the gas instead of the brakes on his SUV when pulling into the vacuum area and hurled over the wall into a pond 8-10 feet below—and the car was sinking fast.
"I felt what I thought was an arm and pulled."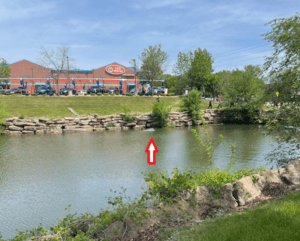 The carwash manager, who reached the scene first, had already jumped in to help the customer, but he was having trouble opening the driver side door. John immediately jumped in to help and headed to the back passenger door, which was the highest above the water. Able to open the door, he reached in. "I could barely see inside because the water was so murky," he said. "I felt what I thought was an arm and pulled." The driver, who was up to his neck in the water by this time, realized there was a way out and swam toward John, who helped him out the back door and safely to shore.
"It's a great feeling to know that John didn't hesitate to help someone in need," said Patrick, "We're all proud of him." John, not one to like being the center of attention, downplays the incident. "The manager was there first and when he said what needed to be done, I just did it. I didn't really think about it."