Last Friday, Comcast donated 100+ laptops to refugees at Arrive Ministries in Richfield, Minnesota, which is a refugee resettlement agency providing essential services and practical assistance to refugees and immigrants to advance self-sufficiency. They mobilize volunteers, in partnership with local churches, to extend love and friendship to our new neighbors to promote thriving in a new homeland.
Accessing opportunity in this country requires support from neighbors and community members. It requires resources and guidance from organizations like Arrive Ministries," said Kalyn Hove, Regional Senior Vice President, Comcast Midwest. "Comcast is proud to partner with Arrive Ministries' through our digital equity programs and laptop donations because, today, high-speed internet is the ultimate tool. It's a necessity for everyone—but especially for people just finding their footing on American soil."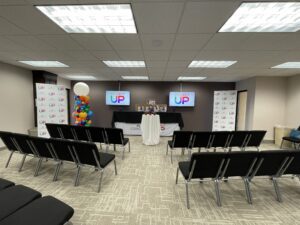 In addition, the event was catered by Comcast RISE recipient Pickles Catering, with dessert provided by Comcast RISE recipient Baking Betty's.
Today's donation of computers are part of Project UP, Comcast's $1 billion commitment to reach millions of people with the tools, resources, and skills needed to succeed in a digital world. The Comcast Lift Zones program complements the Internet Essentials program, which since 2011, has helped connect more than 10 million low-income people to the Internet at home. In Minnesota, Comcast has connected more than 400,000 residents.
Closing the digital divide and addressing digital equity remain two of Comcast's top priorities here in Richfield and across the nation," said Broderick Johnson, EVP of Public Policy and Digital Equity at Comcast. "Programs like Lift Zones and our continued donations to provide digital literacy resources are helping to level the playing field and make sure the Internet is available to everyone who needs it."
Comcast continues to be an avid participant in the Federal Government's Affordable Connectivity Program (ACP), which provides eligible people up to a $30/per month credit toward their Internet and mobile services. New and existing Xfinity Internet or Internet Essentials customers can learn more about the program and sign up by clicking here.