Do you have outdated electronics just taking up space at home gathering dust? Recycling is a great way to responsibly manage the lifecycle of electronics devices.
As part of our "Earth Month" celebration, starting April 22nd, we will accept certain types of electronics here in Minnesota at the Xfinity Stores in Brooklyn Park, Ridgedale, Edina, and Woodbury during business hours.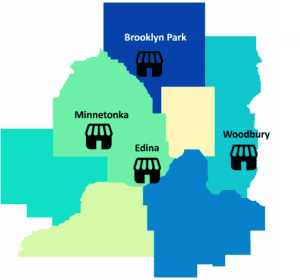 Comcast is partnering with Minnesota Tech for Sucess which creates digital equity for students by partnering with schools and educational organizations to provide technology development in underserved communities. Xfinity stores are proud to partner with Minnesota Tech for Sucess in collecting computers for students and schools to help create digital equity in Minnesota.
Here is a breakdown of what the type of e-waste we CAN accept:
One TV per person (50 inch or smaller)

Computers (including laptops, desktops, tablets and e-readers)

Monitors

Phones (telephone switches, cell phones, VoIP phones and systems, landline phones)

Keyboards and mice

Printers (weighing less than 50 pounds)

Scanners
Servers
Smartboards
Projectors
Cords
Cables

VCRs

Digital video recorders

Portable music players

DVD players

Video game consoles
Although we would love to take all your old electronics, we can't recycle everything. Here is a list of items we CANNOT recycle:
Household appliances (vacuums, refrigerators, microwaves, etc.)

Household electronics (toasters, blenders, etc.)

Batteries

Smoke detectors
Stereos

Cameras and video cameras

TVs 

Air conditioners
Dehumidifiers